It was recommended by a friend who stayed here before.  That was what made me ignore Tommy's offer to look for another hotel in Hanoi.  And what a mistake that was.  The Splendid Star Suite Hotel have mixed reviews on the internet, but I had blatantly trusted my friend's judgement.
To be honest, The Splendid Star Suite Hotel wasn't all that bad and I must admit that some aspects of it were good.  For one thing, the staff spoke halting English, and we must give them credit for trying their best to communicate to us in this language which must be difficult for them.  I also give credit to them for their hospitality and the choice of breakfast (a mixture of local and western breakfast sets) served every morning.
However, expectations fall grossly short in terms of location, room service, facilities and what was promised to us.
On our first check-in, we were given the 'good news' that we were selected for a 'free' upgrade to a family room at the neighbouring Splendid Jupiter Hotel.  This was despite the fact that we booked our room at The Splendid Star Suite Hotel weeks before our arrival.  It is not uncommon knowledge on the Internet that Splendid Jupiter Hotel is an older hotel and the reason why we selected The Splendid Star Suite Hotel was exactly because we preferred a newer outfit.  Nevertheless, we decided not to be picky.
Our friend had already warned us not to accept a room facing the Cathedral, but that was exactly what we were given.  Huge mistake not to make a fuss.   The cathedral's bells chimed at a regular interview of every 20 mins and continued into the night. At around 4am, the chiming was endless and much worse.  Needless to say, we never had a good night's sleep.  It didn't help that the fixtures were old, the water pressure in the washroom was poor and the temperature of the water that runs from the shower was inconsistent.
We were actually relieved to leave the Splendid Jupiter Hotel for our 3D2N Halong Bay cruise, hoping that they'll give us a room at The Splendid Star Suite Hotel as per our booking when we return.  Hard luck there again. We were indeed given a room at The Splendid Star Suite Hotel , but as we were shown to our room, I pointed out that we had ordered a double bedded room and not a single-bedded room!  But all we got was a shrug from the staff and a sentence that says that all their double rooms were full.  Strange indeed, for we had made this booking weeks ago and were told it was available.  The only redeeming factor was that the décor was modern and nice.
At some point in time in the middle of the night, I actually thought that a typhoon had hit Hanoi, what with the howling of winds at the window.  I was fully expecting to wake up to a flooded street in the morning, but instead, it was sunny outside!  It was only then that I realized that the howling sounds was from our own air-conditioning unit.  Actually, we were at a loss for words at the hotel's oversight in this, and for causing me sleepless nights for the days to come.
The Splendid Star Suite Hotel is at best a bed and breakfast inn.  Cleanliness was clearly lacking and often, we return to our room to find trays of half eaten food stacked outside our door – those where not our food by the way.  Some guests who are going away for their Halong Bay tour may leave some luggage with the hotel to be claimed when they return again.  Those with a more observant eye will see the hotel staff dumping used towels on top of these suitcases, which I find totally disgusting, unhygienic and downright disrespectful to other people's properties.
Once, we returned to our room to find our neighbour talking to a staff at the door.  He was wrapped in a towel and clearly was in the middle of a shower.  That sight was pretty amusing.  Only I found myself in the same situation a few minutes later.  The room service staff came to tidy our room, but failed to top up shampoo and soap for us. And I found out only in the middle of my bath.  As to why this can happen totally baffles us.  To add insult to injury, when we called room service for more soap and shampoo, they came back to us more than an hour later.   Splendid! (no punt intended)
At the end of 4 difficult nights stay at The Splendid Star Suite Hotel, we were more than eager to pack up and see the last of this hotel.  Lesson learnt the hard way.  Indeed, we never had such a difficult stay at a hotel before. We will trust our own research and judgement when selecting an accommodation for our overseas travel.
Final Verdict
Despite the hotel's best efforts, The Splendid Star Suite Hotel can never be as splendid as its name.  In fact, this can be considered as the worst hotel we've ever stayed in.  The Red Roof Inn at San Francisco comes in as a close second, but at least, we had nights of good sleep there.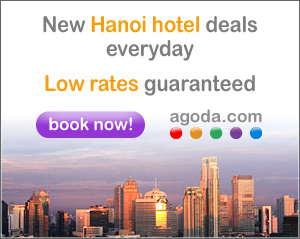 In terms of locality, it sits only at the fringe of the Old Quarters and not at the heart of it, so there's a fair bit of walking to be done to get there.  It is situated right next to St Joseph Cathedral, which though beautiful, is not the best of neighbours for any hotels. The only saving grace that this hotel has is the nearby Joma Café, an absolutely charming outfit that serves all our meals needs for our short stay.
In terms of pricing and locality, there are many other more established hotels situated in the heart of the Old Quarters which are more value for money…
Splendid Star Suite Hotel
No. Lane Au Trieu str 10000,
16 Thọ Xương, Hàng Trống,
Hoàn Kiếm,
Hà Nội, Vietnam
[
Read all reviews about  Splendid Star Suite Hotel at TripAdvisor!
Hotel Recommendations
You might want to check out Essence Hanoi Hotel, Hanoi Elegance Ruby, Hanoi Serene Hotel or Hanoi Elegance Diamond Hotel, who have all received rave reviews in Tripadvisor.

Join us next as we enjoy a meal at City View Cafe.